Kelton was invited to an open house at a local martial arts place and he really wanted to go. As part of the invite, he was given a VIP pass for a free uniform, 2 private lessons and month of group lessons. Oh boy did he want to do it so, being the good mommy that I am, I signed him up.
We went to the first private lesson on Monday and he LOVED it. I was totally captivated by how into he was. He was given homework and he did it. His second private lesson was tonight and it was the night he was to earn his white belt. He showed off what he had been taught and had practiced. repeated his memorized line and shared about his act of self-discipline. And then the moment arrived; he was to break a board with his foot.
He had been squirming with anticipation and trepidation for two days. Asking at every turn how many times it might take and did I think he could do it. Finally - the moment arrived. And here is what happened: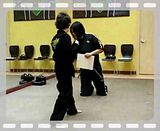 He is SO proud of himself! And I am very proud of him, too.
I love the place that he is going to - there is just something about it that makes me feel it's the right place. I love how the kids are both happy and doing what is asked of them without screwing around. I love the easy going atmosphere but most of all, I LOVE how Kelton is responding to it all. Now I just have to figure out how to swing tuition. Wouldn't it be nice if money grew on trees?